"I wanted you to know the time your therapist spend giving me instruction and experience was so special. Her exercises were tolerable and enjoyable. I will continue to do them on my own. I will also speak more highly of your benefits in the future."
Lucille D.
"I would like to give a sincere thank you to the staff for helping with my home health program. Thank the nurses and especially therapist so much. I am using two feet again!"
Gloria B.
"I had recent unfortunate major abdominal surgery. In my recovery I was fortunate enough to have Pinnacle services. I cannot tell you what great care and attention and support I received from my wound care nurse and physical therapist. They played a major role in my speedy recovery."
Ray C.
"This is just a note from a client to say what a very good experience I had due to my excellent nurse. Having been in the home health industry for 15 years I can determine quality service and genuine concern when I see it. I obtained the best care I could have hoped for. Thanks!"
Jean B.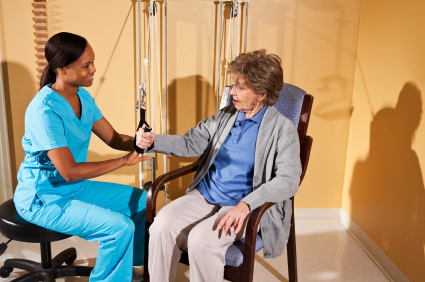 Why Us?
At Pinnacle Home Health our clients are very important to us and our staff. It's why we choose to work weekends and provide emergency assistance 24 hours a day. It's why we specialize our care and clinical treatments to your needs as prescribed by your physician. It's why we accept most insurance plans including Medicare and Medicaid as well as most commercial insurance plans like Blue Cross Blue Shield and Humana.
As you can see we've crafted our home health service to provide our patients with the service they need where they need it the most.There's no better testament to the quality of care that we provide than the reputation we've garnered in and around the Baton Rouge community. More importantly we've achieved our high standing organically without the aid of a big advertising budget from national chains. It's all been achieved through hard work and our commitment to serving the members of OUR community with quality care. Don't just ask us "Why Us?" Feel free to ask one of our many satisfied families that same question.
If you happen to be a current or past Pinnacle Home Health family please share your experience with us. Your input is invaluable to help others make this difficult decision. Plus, we love a good story. How Are We Doing?
Mission/Vision
Mission Statement: "We are in business to help individuals and companies in the medical community create a more wholesome environment and ultimately providing physical, mental and spiritual healing for all."
To us healing doesn't just come from the medical services we provide. We strongly believe that it's important to not only treat the physical pain but address the spiritual and mental pain also. It's our goal to not only address the way we provide home health but to personalize the quality the healthcare industry operates as well.
Our approach is to employ people whose passion is only rivaled by their skill. It allows our staff to perform much more than basic health care. We assist with all facets of care including nutritional assessments, patient education, infusion services, coordination of care before discharge from the hospital and coordination of durable medical equipment (DME) and infusions services.
As our name suggests we want to reach the apex of home health care. The results can't be found in a spreadsheet or bar graph. We simply measure by the "thanks" we get.
Jonathan Lyons – PT – Director of Therapy-Administrator
As our Administrator, Jonathan brings a hands-on approach to the management of his staff. It is due in large part to his focus on employee education and training that we are able to continually deliver a high level of care for all Pinnacle Home Health patients. Jonathan is a graduate of LSU and has over 10 years of physical therapy experience. His responsibilities include the management of all occupational, physical and speech therapy services, in addition to the direction of the company towards it's overall goal and mission. In addition to bringing strong leadership skills to his position he also brings smiles to the faces of his team and patients.
Chris Peno – RN/WOCN – Director of Nurses
Chris has over twenty years of experience as a registered nurse and uses that knowledge to help educate and train all clinical nurses on Pinnacle Home Health's best practices. Through her hands-on approach she reviews policies, procedures and quality of care. Chris is a Certified Wound Care nurse and continues to pursue her love of patient care by continuing to see and care for patients, in addition to functioning as the DON in the office. She also displays her passion towards quality of patient care through her commitment to furthering the education and standards of Pinnacle's nursing staff.
Greg Wynn – RN/Director of Business Development
Greg has over twenty years of experience as a registered nurse case manager. In that time he has built a strong reputation in the healthcare community for his follow through and dedication to the continuity of care his team provides to Pinnacle's patients. Greg and his team are the first to meet with patients to assess their clinical needs. They answer any questions and educate clients and caregivers on what they can expect of from Pinnacle Home Health's team of professionals. Understanding that it can be a difficult and confusing process transferring to home health, Greg and his team make sure they provide the steady hand that carefully guides each patient through it all every step of the way.